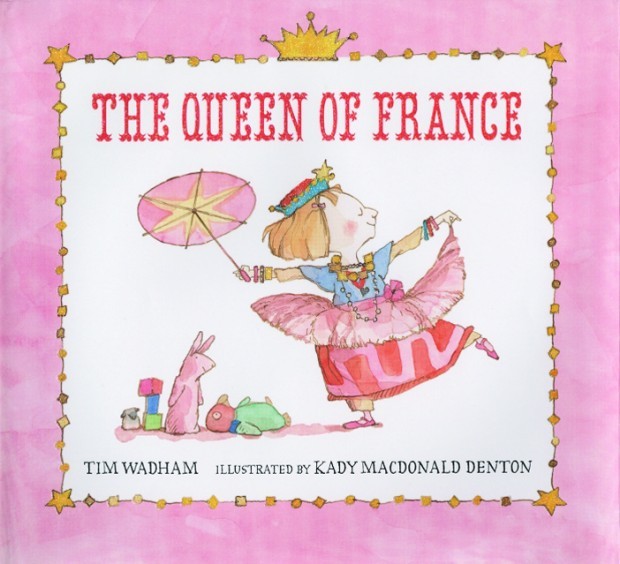 Get to know Tim…
Tim Wadham is the director of the Puyallup, Washington Public Library. He is the author of books for the library and education market, including Libros esenciales, published by Neal Schuman. His first book for children, The Queen of France, was published by Candlewick Press in 2011.
Let the conversation begin!
What is the best writing advice you've ever received?
When I submitted The Queen of France to Candlewick Press, I got an editorial note asking if I could take my character outside to open up the story more.  The subsequent revision taking this one suggestion into account made the manuscript 100 times better.  I guess the advice here is to listen to your editor.
Do you let anyone read your work-in-progress? Or do you keep it a secret?
My wife reads everything.  She is my first editor and, I must say, a really good one.  She keeps the writing honest and knows exactly what to suggest to solve problems in the story.  I also read drafts out loud to my daughter.
Would you rather publish a string of mainstream books or one classic?
I think that any writer would want to create a classic that would live forever, and be read by generations of children.  I think of Norton Juster, the creator of The Phantom Tollbooth.  While he's published some picture books for children since then, his reputation rests solely on that one book, and I'm sure that he's quite happy for that to be the case. 
Are your characters completely fictional?
The character of Rose in The Queen of France is based on my daughter.  The scenario in the book is actually based on something she did when she was around four years old.
She is now fifteen, but she still remembers dressing up as the Queen of France and thinks it's cool that I thought that something she did was funny enough to put in a book.